Really trying to stick to the specific
JoyDare prompts
this month. I have soo much more to be thankful for after a week with extended family. Hope you enjoy my list and some of the pictures!!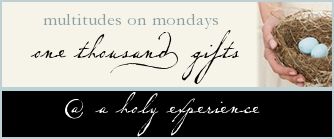 July 2 reading:
608. reading Psalms/Proverbs
609. my kids reading library books
610. lovely comments on
my blog today
July 3
611. FAITH-
His thoughts toward me are precious
612. FAMILY-ice cream/music fixes things
613. FREEDOM-thankful for those who sacrificed
July 4:
614. RED patriotic t-shirts ... and cousins!
‪615. WHITE‬ lightening in the sky
616. BLUE enjoying the refreshing pool
617. playing cards with the family
618. rainbow jello
July 5 persistence:
619. God's pursuit of me
620. husband's love to me
621. continuous need for grace
622. THIS QUOTE:
July 6 enthusiasm:
623. my kids learning to love the pool today
624. cousin fun & creativity in acting out books
625. my excitement for Iced Coffee!
July 7 Challenge, conflict, change:
626. The challenge of being patient
627. How conflict with others opens communication with my husband
628. The reminder that only God can change a person
July 8 Water
629. memories of lots of fun in the inlaws pool!
630. pictures taken Saturday at Sandusky Bay
631.
thirst quenching spiritual water of the Word that washes me daily
I'm so unbeleiveably thankful for my immediate family today... the wonderful husband and the adorable kids that God has blessed me with!!