It's the beginning of the new month and we are still counting! Do you need some ideas of what to be looking for?
Check out the
August Joy Dare
!!
Just 3 blessings a day--I know you can do it!
Isn't there something delightful about cornfields... just fun to look at!! Very peaceful... I love living in the country.
July 30 gifts heard:
673. the sounds of nature, birds, trees...
674. my kids playing together
675. an apology
July 31 difficult:
676. Misunderstandings
677. cancer surgeries
678. selfish children showing me a bit of myself.
August 1 White:
679. pages of my
#
SheReadsTruth
journal
680. mozzarella, provolone, white cheddar combo on our pizza
681. my pillowcase
August 2 gifts eaten:
682. summertime berries
683. Chicken Alfredo
684. Jeremiah 15:16 the Words of God "
Thy words were found, and I did eat them; and thy word was unto me the joy and rejoicing of mine heart: for I am called by thy name, O
Lord
God of hosts."
August 3:
685. at 10AM-phone call from a friend
686. at 1PM-kids emptying dishwasher
687. at 10PM-movie night with my husband
August 4 sitting:
688. making cards at my craft table
689. celebrating a baby shower
690. chatting on the swing with my visiting sisters
August 5:
691. INSIDE -clutter intervention w/ help of big sis
692. OUTSIDE - enjoying Rita's Italian Ices/custard!
693. UPSIDE DOWN - 4YO playing w/ her cousin
August 6 water:
694. babies and bubbles in the bath
695. dishwasher/washing machine making life easier
696. memories of the kids in grandpa's pool
697. king size ice cubes
698. wildflowers my mom picked when visiting
August 7 in His Word:
699. The if/then truths of Proverbs 2
700. He hath put a new song in my mouth, even praise unto our God: many shall see it, fear, & shall trust in the Lord.
http://
bible.us/Ps40.3.KJV
701. The reminder that LOVE is more important than being right in
Galatians 5:13 For, brethren, ye have been called unto liberty, only use not liberty for an occasion to the flesh,
but by love serve one another.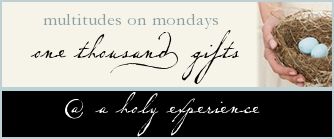 join the community?