The end of one month the beginning of the next.... and we just keep counting!!
Here is September's Joy Dare! I think you should join me this month... or at least today, share a gift you received this week!
Still looking for all His good and perfect gifts which come from heaven!
August 28: long awaited
767. some peace and quiet
768. this larger home we enjoy so much
769. babies for many of my friends
Aug29:
770. ONE Starbucks frappuccino;
771. TWO pieces of dark chocolate;
772. THREE
glittery crafts made
August 30 very small:
773. little pear in our backyard tree
774. kisses from my little ones
775. small prayers with great power
August 31 miracles:
776. the steps of a prodigal in the right direction
777. Christ arose... and that power lives in me!
778. a little 4YO girl from our church
September 1 summer:
779. hot sun
780. kids on slipnslide
781. having no schedule
September 2 cut:
782. buying cut flowers
783. anticipation of birthday cake
784. homemade thankyou notes
September 3 yellow:
785. corn on the cob
786. the middle of daisies
787. the blond of my children's heads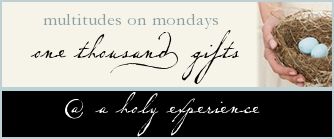 give thanks...