Wednesday was a snow day last week... and not exactly one of my better days, so I give thanks for....
255. grace
256. forgiveness
257. second chances
258. tears
259. smiles
Thursday was our Mom's Group at church... a chance to fellowship with moms, learn from God's Word, get a little break from the kids, so I give thanks for....
260. friends
261. food and coffee
262. using my "Christmas" platter in January
263. Biblical teaching on submission in marriage
264. older women living out Titus 2
265. times of prayer
Friday was another day off school, but this one planned, and I give thanks for....
266. chocolate chip muffins for breakfast
267. lazy, pajama days
268. family movie night
269. bedtime
Sunday was Church day, and I give thanks for....
270. Adult Bible Fellowship, testimonies on our last series
271. Worship... "thank you for the cross, Lord... thank you for your nail pierced hands"
272. the start of a church series on the book of Ephesians... reading it in it's entirety!
273. quick and easy grilled sandwiches lunch
274. trying out a "new" cappuccino/espresso machine
275. sitting on my sun porch and sweating (even in January)
276. holding and snuggling my baby girl a little longer than normal... She is going to be THREE this week!!
277. Sunday evening prayer meeting
278. A special order handstamped card...
What a week of blessings... looking forward to the next one and adding more to my list of
#1000gifts
with Ann Voskamp.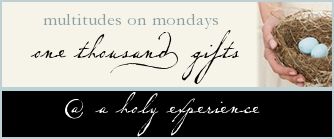 I had to come back and say... you MUST go and read
Ann's post today
... It's always beautiful, she has such a way with words, and today was no exception! It touched me, and I will definitely be adding
her book
to my wish list!!
Happy Monday... look for the gifts today!