IT IS A GOOD THING TO GIVE THANKS UNTO THE LORD, AND TO SING PRAISES UNTO THY NAME, O MOST HIGH:
1 Thessalonians 5:18
In every thing give thanks: for this is the will of God in Christ Jesus concerning you.
Today, I am giving thanks... Here are some of my #1000gifts that God gives me every day, even when I don't notice them all!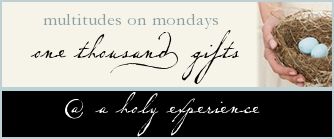 603. Joining up with the
Good Morning Girls
group... looking forward to reading The Ministry of Motherhood by
Sally Clarkson
604. a little more crafting at my card-making table... easy and fun invitations!
605. Throwing out our diaper pail... after 8 years of continuous use!!
606. Taking my 2 little ones to the local library story time
607. watching their creativity come out in making butterflies
608. snuggling a sleepy and feverish 3YO
609. putting away the to-do list for 40 minutes to do so
610. eating my hubby's great chocolate chip cookies!
611. spending time in God's Word DAILY with the help of the SOAP method and #GoodMorningGirls summer reading
612. A chicken coop for my chickens... here's hoping they produce some eggs!!
613. watching the fog roll in... still excites me (as long as it doesn't stay too long)
614. catching a peak of sunshine and blue sky in my travels one day during an otherwise extremely dreary week!!
615. at least one of my kids enjoying swim lessons!
616. Painting my toenails in anticipation of the sun actually returning to my neck of the woods someday before June.
617. baking cookies ...
618. neighbors filling in my missing ingredients!
619. 3YO fever finally breaking!
620. Author's Day with my son's 2nd grade class
621. listening to my little boy read aloud a book he wrote and illustrated!
622. my daughter playing with my camera...
623. fun socks on my little girl
624. sweet smiles
625. serving at the local rescue mission with church family
626. little girls with long blond hair ... they want haircuts, they are tired of the snarls! :( what should I do???
627. church... I've got a
great one
!
Keep counting!!