I did so much better this week at taking a moment to think through my day and count my blessings!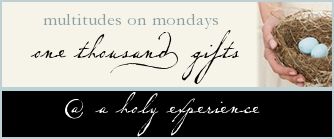 May 21
461. My 8YO son overcoming some fears at swim lessons today!
462. My 4YO just singing her own song while we were shopping today...
And the smiles it put on the faces of those we passed.
463. Finding a love note from our 7YO before bed.
464. and my 5YO and her flyaway hair...
May 22
465. Listening to my kids find animals and characters in the clouds. (this one's Santa's sleigh)
466. Watching a newborn calf on wobbly legs; (come back tomorrow to see the pic)
467. enjoying a preschool, K5-2nd grade choir sing cowboy songs! (focus on my 2 cowgirls)
May 23 gifts found in community:
468. encouragement
469. accountability (a kick in the pants)
470. laughter
May 24
471. homemade pizza,
472. birthday packages arriving for my son next week
473. Making cake mix cookies with the girls
474. encouragement found in the Psalms
May 25 hard gifts to give thanks for...
475. Confusing disagreements
476. disciplining children
477. being needed by 4 kids all at once
Bonus gifts
479. the smell of campfire on my clothes
480. the sounds of summer
481. sliver moon
May 26
482. WHITE
frosting
on chocolate cupcakes
484. comfy jammies WORN at end of day
485. Listening to the cows on the neighboring farm through open windows
May 27 gifts found in church (but I was home sick...)
486. hearing the church bells in the valley, while I'm home sick
487. having "church" on my sun porch
488. friends missing me
489. my 7YO sharing her church notes with me
490. reading the message passage on my own
This week was not perfect by far, but I am so thankful for being more aware of the daily gifts from God!!
What can you give thanks for today?
Also want to give thanks on this Memorial Day for those who have given their lives in service to our county and our communities!