My daily tweeting of the JoyDare has been strangely quiet lately. And that means I missed my weekly blog update, too. It still amazes me that it takes 21 days to create a habit, yet it's broken in just one day. For some reason the JoyDare prompts have been difficult for me over the last few weeks. I've gotten easily distracted and lazy and haven't made the effort.
That's what it takes --effort.. Effort to give thanks. Effort to find the grace and the gifts in the difficult. Sometimes it's even harder to find the gifts, the joy in the mundane.
I'm reminded that His mercies are new every morning and His grace never runs dry, so I pick up my pen and keep counting in the mundane, the daily gifts....
812. a deer in the driveway
813. the sliver moon in the sky
814. hot showers
815. coffee
816. my writing class
817. blue sky and puffy white clouds
818. bright sunshine ... and rainy days
819. extra pillows
820. a walk
821. hugs and kisses
822. big yellow buses
823. my kids' new school building
824. after dinner bible reading
825. the questions kids come up with after said bible readings
826. my dishwasher
827. electricity
828. overabundance of food
829. church friends
830. blog friends
831. family
and some gifts from the September JoyDare prompts as well...
HARD EUCHARISTEO:
832. 4YO wetting the bed... again
833. remembering 9/11
834. not getting to bed on time
GIFTS IN HIS WORD:
835. Matthew 14:22 "And when he had sent the multitudes away, he went up into a mountain apart to pray" (Sometimes I need to send "my multitudes" away... or at least to their rooms)
836. Psalm 46:10 Be Still and know that I am God
837. Matthew 14:27 Jesus says "Be of good cheer, it is I, be not afraid."
838. Scented- fall candles!
839. Scratched- writing for class;
840. Started-a new year of Awana with the kiddos!
GIFTS PAIRED:
841. Chocolate and Peanut Butter
842. cheeseburgers and french fries
843. Me and my honey!!
UGLY BEAUTIFUL:
844. drenching, unending days of rain
845. dirty dishes
GIFTS IN CONVERSATION
846. coffee date with friends
847. encouraging phone calls
848. twitter conversations about Allume
GIFTS IN SALVATION
849. we have The Comforter
850. Eternal Life
851. The grace that saves me is the grace that keeps me!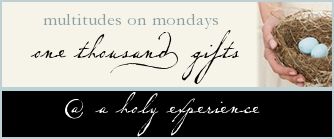 What are you thankful for... in YOUR mundane?