Fears, they are all around us, they control us, they can grip us, they can send us in a downward spiral. but it's not supposed to be that way.
God has not given us the spirit of fear,
but of power, and of love and of a sound mind. I have a few fears... I'm working on them, but for a little bit of fun (and some seriousness) here's some fears I'm facing next month.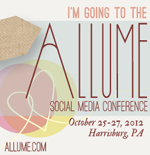 Exactly 4 weeks from today, I will be doing something TOTALLY new to me.
And that means it is totally unknown. And I'm not a fan of the unknown... but I am super excited about this opportunity! I am attending
Allume
, going to a conference on blogging and writing. Going to a place I have never been before. Being surrounded by hundreds of women (and a few men) I have never met. Spending 3 days with them, attending sessions, workshops, meetups...
and I am scared to death...
Afraid that no one will talk to me
Afraid that I won't have anyone to sit with (I know, totally Jr. High fears, but I still have them)
That I won't recognize people from their blog/twitter avatar ... or WORSE, that they won't recognize me.
That I won't be able to remember any body's real name.
I won't know what to say.
I'll pack too many clothes... or not enough
I'll spend too much money
I'll gain 10 lbs from Nutella
, S'mores, Chocolate and a host of other great snack foods.
I'll covet someone else's clothes, shoes, jewelry, business cards, bags... etc.
I won't be able to process, or remember any thing I hear throughout the weekend (too much goodness in one place)
What if I don't get to meet everyone I want to... so many awesome twitter friends are gonna be there!
That I won't be able to actually do
Five Minute Friday
in 5 minutes... I like to think over the prompt for a while before I start typing! :)
That God will tell me to stop blogging, that there is more important stuff to be done.
That I'll miss my family too much ... or NOT AT ALL.
I won't be able to choose which workshops to attend.
And what about the WiFi at the hotel?!?! Is it any good? Is it reliable? because I do not have a smartphone and my iPad will be my only means of connecting with all my twitter friends that I really want to meet!!
That I'll get sick and miss it all!
I'll get cranky from lack of sleep
That I will cry when it is all over...
Allume attendees, (newbie or veterans) What are YOUR fears?
and Do you have any advice for any of my fears?
Come back next Thursday to find out what my roommates should know about me...
and the next week for what I'm looking forward to most...