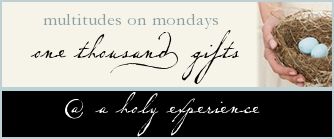 The sun came out this past week! It was a beautiful thing and I gave thanks... It disappeared on Thursday and I struggled to give thanks. It didn't help that my husband decided that 3 warm days in a row determined that it was Spring enough to turn the heat off, so my toes were freezing all day. (Thankfully, we turned it back on) But this is Monday, a sharing of the multitudes of gifts that God has given me... not a time for complaining.
I told you last week I was going to start counting the gifts again, recording them, remembering them, re-reading them. I had some good days and bad ones. We have had some serious ugly at our house lately. The selfishness, whining, complaining, temper fits have abounded! I'll be honest... it hasn't JUST been my kids. and I wonder??? HOW??? HOW??? HOW do I teach them to respond correctly, in the Spirit, when I keep falling short?
How do I correct and instruct one minute and then turn around and do the same thing in the next minute? How do I live out an attitude of gratitude in all things?
How do I teach them? ... in whatsoever state I am therewith to be content.
When your sister gets the toothbrush you want.
When your brother's brownie is bigger than yours.
When you have to unload the dishwasher.
When you have to take a bath.
I'm still figuring it out. We give thanks at the end of our day, trying to remember our favorite things. But sometimes I get discouraged when they just answer "Everything" even when they just got disciplined for fighting with their sibling, or moaning and groaning about there awful math homework. And I get discouraged because they are just giving me generic answers, not really thinking about it.
And then I pull out my gratitude journal... the one I said I was going to dust off and start using again, and I realized I'm guilty of the same thing in that I only wrote the gifts for TWO days before it got lost on the shelf again!
So, I skim my twitter feed and give thanks that I'm better and sharing my gifts with the world instead of writing them in a book and pondering them in my heart... and I write!
~my Eastern Bluebird returning
~Salvation Army 1/2 price day... with a friend
~lots of "new" clothes for me and the kids
~coffee date with hubby
~listening to my kindergartener read
~my girls dancing in the living room
~mismatched socks
~homemade pizza
~chili cook-off with great friends
~laughter, uncontrollable laughter
~seeing a LARGE black bear lumbering across the road
I fall down in the counting off the gifts and I get back up again!!
What are YOU thankful for today?