So I said on Thursday that I would be back on Friday for Five Minute Friday and here it is on Sunday night and I wasn't here on Friday. Kinda funny because the prompt is After... and I was gonna blog, but then it became after I do my reading for Brit Lit, and after I do some housework and laundry, and then it became after dinner and after errands and after movie night with my husband and after a day spent at a Pistol Training Course... then it was after church and after lunch and after more reading for Brit Lit.
And I've got nothing left in the after...

But I will try: AFTER
I participated in the JoyDare last year. I wrote and counted and I kept track and I blogged about this JoyDare and I kept counting and counting my #1000gifts. Then I reached 1000gifts through the Joy Dare in 2012. and I kept counting in my JoyDare journal... but somewhere along the way I missed a day or two, which became a week or two, which became a month or two... or three.
AND I pulled out my journal today, and saw that it had been THREE whole months since I had written down a gift, even one gift! Not that I hadn't seen the gifts or made a mental note of them. They were there, some big, some little, some in the moment, some I saw after.
But I didn't write them down. I have nothing to go back to remember and review. I realized that I'm a little pathetic and I need a little bit of accountability to keep at this. So I'm joining back in with Ann Voskamp's counting of the 1000 gifts and sharing the Multitudes on Monday.
Because I need it! Because after 3 months of not counting, I'm starting to get a little more negative, maybe a lot more negative. Because when you aren't counting the gifts, taking note of the good stuff, somehow the focus just naturally goes to the hard stuff, the negative... and after three months of that, I'm ready to count the gifts again...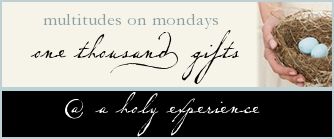 Count with me?
~starting again
~knowing there were 100s of gifts given, even when I wasn't recording
~grace
~the promise of spring
~sunshine
~a loaf of pumpkin bread in the freezer
~school lunches made the night before