View:
You can't purchase what you can't see...
I love to create cards and my dream is to have a successful etsy shop (or successful craft show, or a successful spot in a local store)... but I don't have the marketing skills, I don't have the business skills... (Translation: I don't have the discipline for the necessary work).
But I did something yesterday in anticipation of this month long series on my handmade cards! I added a few new cards to my shop. In reality, they are all cards I have listed before and they haven't sold, so they are still sitting in my inventory in my craft room. But I did it, I listed some cards!!
And what to my surpise happened before dinner?!??!?! I made a sale on one of those cards!!! HOW AWESOME IS THAT!!! (just a little excited and it's just one card) Every sale gives me a boost of confidence. Every sale reaffirms in my heart that this is what I want to do. Every sale makes me wish I could afford a virtual assistant! ;)
Masculine birthday cards aren't always easy to come by when you are looking handmade. But this one is simple with a touch of class... just like your dad!
But I know that that sales won't come unless people can see them. So that means taking the time to take quality pictures and edit them, and upload them and give them a description, and take the risk to post them. I also need to share them... Social media is an awesome tool... but only if you use it, because you can't purchase my lovely cards if I don't give you a way to buy.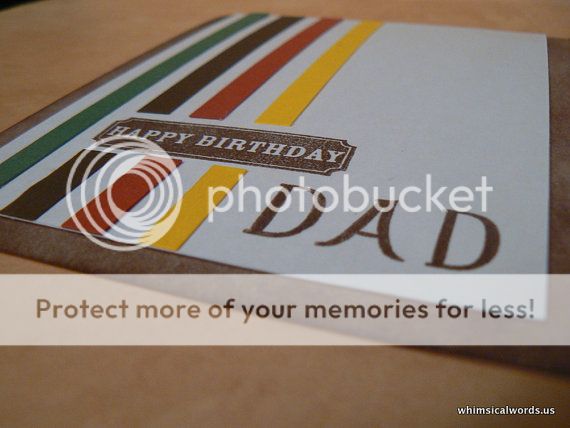 The question is this: Do I upload 10 new cards to my shop in one day... or should I do one a day for 10 days in a row?
My word prompt came from Kate Motaung who is doing 31 days of 5 minute free writes this month!
Five minutes of writing is about all I can squeeze in these days, but it's better than no writing!!
Thanks for taking the time to read and comment as I get moving again in writing and creating... (it might just benefit you at the end of our time this month)