I finally found a Friday blog link up to participate in... this will help me post regularly, plus I will find new recipes every Friday... and I love recipes!!
Updated in 2012 with PHOTOS!!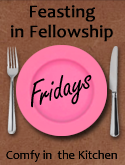 Today I am sharing a recipe that saved my day yesterday!! LOVE IT!!! My favorite kitchen tool ever is the slow cooker!! it is so wonderful for saving mealtime!! Yes you have to think ahead a little bit, but not always... and I have
A Year of Slow Cooking
to thank for that!! Now I don't think this recipe is from her website... I couldn't find the source at all, but I love it! and even better, my kids love it (well most of them... except for the one that seems to be boycotting anything I put in front of her, which could be just because she is 2 almost 3!) I digress!
You can call this Frozen Chicken, Cream Cheese Chicken, Salsa & Black Bean Chicken... what ever you want, just call it delicious!!
Ingredients
4 boneless chicken breasts
1 15oz can black beans (drained)
1 15oz can corn (drained)
1 15oz jar salsa, any kind
1 8oz package cream cheese
Put the frozen (Yes, FROZEN) chicken breast in crockpot
Pour in black beans, corn and salsa.
Turn the crockpot on high and walk away.
Come back in 4 hours
Toss in the cream cheese and put the lid back on for 1/2 hour.
Mix it all up and serve over rice...YUM!
I love this, because it is easily doubled if necessary, and I was going to be gone longer than 5 hours, so I just put it on low for 6+ hours!!
tonight is homemade pizza... better go get started!
also linking up to
Foodie Friday
and
Food on Fridays