Not been a great blogger this week... but there is always time for counting the gifts... #1000gifts on Multitude Monday!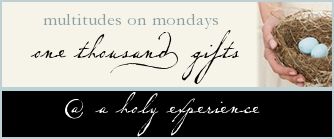 296. public libraries... multitudes of free books to borrow!
297. listening to my kids read aloud
298. going to bed at 9:00 ... really should do that more often
299. music on the car radio, speaks to my soul, encourages
300. safety daily on the roads, to and from school, running errands, off to church; up and down the hills/mountains, around the curves, avoiding wildlife
301. my kids' health ... slight fevers I can handle!
302. Legos... hours of endless fun!!
303. painting little girls fingernails and toenails
304. living on the mountain during rainstorms/flooding
305. free material scraps from my mom
306. creating a springtime door wreath
307. free e-books on Amazon.com ... already reading through
Calm My Anxious Heart
308. making an effort to give up COMPLAINING for Lent
309. a date night with my husband
310. listening to a Pedal Steel Guitar mini-concert
311. coffee... always coffee
312. illustrations in church re: the body of Christ (Ephesians 3:1-13)
313. My 3YO's laughter, hugs, kisses, smiles
314. My son singing ..."There's no God like Jehovah" along with the radio
315. walking and talking with a friend (even if it was freezing cold out!)