I started this blog a few days ago... but am just having a hard time being thankful, which is awful because I have soo much to be thankful for. I find it easiest to share some of my thanks with some of my pictures over the last week... which was almost 2 weeks ago now.
I feel like I experienced 2 weeks in the last week... and not necessarily in a good way. However, I know that God is still giving me gifts every day, and I will continue to count them in my attempt to live a life of thanksgiving!! The May calendar print out does not seem to be working for me, so I may have to go back to the 7 gifts booklet that Ann Voskamp so graciously shared with us!! :)
578. Chinese takeout for Mother's Day dinner
579. little girls in pigtails
580. little girls in WHITE Sunday dresses and BLACK muddy snow boots! :)
581. Hubby doing dishes for Mother's Day
582. Bedsheets hanging on the line to dry... although I won't be doing that again during
allergy season
!
584. A little after-school snack for me and the kids... picked up from the Mom/Pop grocery store at the bottom of our hill.
585. dinner at Panera Bread,
all by myself
.
586. buying annual
flag t-shirts
from Old Navy for Memorial Day Parade! :)
587. finding an old inhaler...
just when I needed it
!
588. a new nephew... although he will probably be 2 months old before I get my hands on him... I am not sure how long pictures will be enough! :(
589. An incredible school concert... we have a great
music teacher
!
590. The cutest Kindergarten class ever
591. My little girl singing brave and strong
594. Friends who are willing to walk this parenting journey with me
595. Discipline
596. smiles on my kids face, even after a hard day
598. homemade chocolate chip cookies... made by my hubby!
599. a 3YO's attempt to take care of her pet! :)
601. Spending some time in my craft room... making this card for a special order!
I am normally a very punctual person... but lately I just can't seem to get ahead, so here's my Multitude Monday post... on Thursday!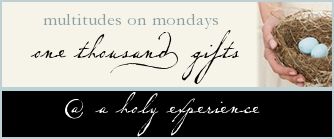 and because I review my week in pictures, linking up to:
Insta-Friday at Life. rearranged