Well, isn't that an eye-catching title... doesn't it just make you wanna keep reading? Well, maybe when I'm done with this post I will come up with something more exciting! But stick with me anyway, here is a list of books I want to read this year... some I have started and never finished, some I have read and need to re-read, and some I haven't even picked up. But all are books that I want to read THIS year! and because it is Tuesday, this list will be a "Top Ten"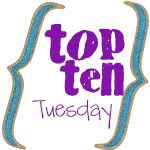 1.
Grace-Based Parenting
I have a hard copy of this book and a kindle edition. I am mostly reading in the kindle edition right now because it's convenient! I really want to live out God's Grace in my life, so that my kids can see and understand God's Grace in their lives!
2.
One Thousand Gifts: A Dare to Live Fully Right Where You Are
I have already read through this book once and am starting it for the second time. I am also counting my
1000 gifts
again this year, because really they are INFINITE!!
3.
31 Days to Build a Better Spouse
This is my main January book. One chapter a day to pray for my husband. check it out on twitter at
#31DBBS
4.
Calm My Anxious Heart: A Woman's Guide to Finding Contentment
Oh, how I struggle with an anxious heart. I have been so convicted and encouraged by what I have read so far and am looking forward to finishing this book and living calm and contented!
5.
Blogger Behave: Make your blog benefit your life, so you can love both!
Bought this ebook on a whim with the hopes of bettering my blog and my life! :) I got as far as the blog mission statement section and got stuck! I really need to work on the mission statement of my blog!
6.
Grace for the Good Girl: Letting Go of the Try-Hard Life
This year my One Word is
GRACE
. I don't own this book yet, but I really, really, really want it! and I so want to live grace this year!
7.
Organized Simplicity: The Clutter-Free Approach to Intentional Living
I want to live organized, I want to live simple... I want to live intentional! The funny thing is, I THINK I own this book, but I can't find it anywhere...
8.
Make It Fast, Cook It Slow
I love my crockpot and I love
her blog
! It's my go to when I am searching for a crockpot recipe! I would love to own her book... both of them!! :)
More Make It Fast, Cook It Slow: 200 Brand-New, Budget-Friendly, Slow-Cooker Recipes
9.
Give Them Grace: Dazzling Your Kids with the Love of Jesus
Once again, this year is all about grace for me. I don't own this book either, but I am hoping to own it by the end of the year... maybe after I finish the other books on grace!
10.
The Reluctant Entertainer: Every Woman's Guide to Simple and Gracious Hospitality
I have this book, and I've skimmed it some, but this year I want to really read it and start applying what I read!
So there you have it, my list! What's on your reading list that I should consider??!?!
ps. I played around with Amazon Affiliates, so this post contains affiliate links. If you wanna help feed and clothe my kids, feel free to purchase these books through these links!