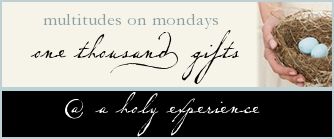 I struggled in getting started with the giving of thanks this week. Last week the ideas just flowed from the suggestions that Ann gave us, this week...not so much.
January 23: I struggled today because I wanted to be poetic, original, to come up with some other gift found in Christ besides salvation!! Which is kinda dumb because what greater gift is there!! So I kinda just skipped the day and started slumping... On Wednesday God brought these verses to mind.
Ephesians 1:3-7
in which I see the following gifts in Christ
67. Blessed with spiritual blessings
68. Chosen before the foundation of the world
69. Adopted for His good pleasure
70. Accepted in the beloved
71. Redeemed thru His blood
72. Forgiven of sins according to the riches of His grace
January 24:
Tuesday wasn't much better because I forgot to look at the joy dare calendar in the morning so I didn't know what gifts I was supposed to be looking for! So when I remembered right before bed I couldn't come up with anything blue, but I did review my day for some gifts
73. Completing my morning agenda
74. Visiting my mentor/friend for lunch
75. Her counsel, her prayers
76. Dinner ready on time
77. Receiving a scholarship application for next year's school choice
January 25: Wednesday didn't go much better. Even after reading my bible in the morning. I cried...more than once! But I still looked for the gifts!
78. My children, on loan from God
79. Finding a sturdy built dresser at Salvation Army, for $29!!!
80. Inheriting a "glass half empty" mentality ... And working through it
January 26:
81. making a tent for my girls... before 9AM!
82. Ice packs before noon & all day after I threw out my back making tent.
83. finally getting
Biofreeze
put on my back after hubby came home from work (after dark)
January 27:
84. a visit to the chiropractor
85. some really good news
86. the sun & blue skies briefly peeking thru the cloudy day!
January 28: struggled again today because it was about graces found in friends... and I didn't see any of my friends on Saturday!
87. a phone call from a friend to touch base!
88. destressing laughter with a friend on a bad day (Wednesday)
89. receiving friendship bread starter from a friend at church (actually happened on Sunday)
January 29:
90. singing "On Christ the Solid Rock I Stand" in church on Sunday
91. whispering "I love you" to my 5 YO and having her whisper back
92. the sun rising in my bedroom window!!
so thankful for grace this week... and the gifts that kept flowing amidst the unlovely moments this week!!
not much in pictures this week... O well!