Amazing
I don't tell you often enough
and sometimes my actions say otherwise
But I think, NO I know,
you are Amazing!
You are Six, almost seven
and your little body is full of personality
I don't always understand you
But I know God created you
You are Amazing
Your heart is tender
You're so full of life
You've never met a stranger
and you always have a smile
You are Amazing
You are my Five year old
you get lost in the shuffle
You pull away,
then you run close
Unsure of what you want
You are Amazing
We are so much alike,
You and I!
which is why we make each other cry
One day at a time, we will figure this out
and be best of friends when you become an adult
You are Amazing
My sweet little four year old
when did you grow up?
My baby has more wisdom than me some days
You are Amazing
The last in line, you are spoiled a bit
But your sparkling eyes and full smile make it easy to do
So quick to help out, you're fun to be around
and always full of thanks to those who help you.
You are Amazing
Three little girls, God has entrusted to me
May I always see you as God sees you... and me
You are Amazing!
Today's Challenge for #betterwriter was: Write an excerpt in verse and not prose.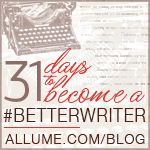 I also wanted to write for my girls, to let them know that they are
ALREADY AMAZING...
and that's not going to change. This is part of Bloom Book Club which is beginning at the end of the month, check it out!!
and for a giveaway of a book of poetry, check out On writing, poetry and friends!