Okay, no time for pictures this week... I'm trying to spend less time on my computer/iPad this week... Not working too great, but I can keep trying! :) I just love going back over the week and reviewing my gifts... so many, so blessed, so thankful!
September 4:
788. COOL breezes in window,
789. WARM cup of coffee rewarmed,
790. SUNSOAKED soaking in the ("SON") Bible for right perspective
September 5 AUTUMN:
791. sweatshirts
792. making chili
793. falling leaves
794. pumpkins
September 6 growing:
795.
my Pinterest boards,
haha
796.
new baby cow
at the nearby farm
797. my excitement about
#
Allume
!
September 7 GIVEN:
798. time on phone with friends
799. sharing iced coffee with kids (they didn't like it)
800. the sense of smell (a fantastic writing prompt in my class today!)
September 8 Made, Masked, Marveled
801. Husband MADE pancakes for breakfast
802. veggies MASKED under chicken & sauce
803. God's unending grace
804. my kids being quick to forgive me
September 9 Framed
805. van framed by fog this AM (and the reminder that
Heaven's right here!
)
806. words of worship songs framed on screen
807. fun antique door frame at a friend's house
September 10 Moving:
808. lots of wild turkey across the lawn (never gets old)
809. two deer in the field (also never gets old!)
810. reliable vehicles
811. coffee brewing (love the dripping of my Keurig)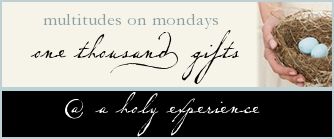 what are you counting these days?