ONE THOUSAND EIGHTY FIVE....
Yep that's the number I ended on in my last post of the counting of the #1000gifts!! I think that makes it a pretty good year, especially considering there are a ton more gifts that I didn't actually write down or count but I know that my God was still gifting me, every single day!!
I've jumped back on the Joy Dare and am making a sincere effort to get them written down in my 1000 gifts journal. I am trying to share them on twitter every day and I want to finish out the year with you all here.
So I keep counting...
1086. the quiet of libraries
Frostys from Wendys

Prayers of friends

good sleep

red barns decorating winter landscapes

having a mentor and friend

Dove Dark Chocolates wrapped in red

Having my husband home again after 4 days away

a new small camera

some free write poetry in my last Five Minute Friday of 2012

3 deer meandering through my back field... always a treat to see

Fridays

!!!


JoyDare WHITE:


snowflake ornaments

ice cream for homemade eggnog
Christmas lights;

JoyDare BRIGHT:

our new Christmas tree lights

smiles on my kids' faces decorating the tree

singing "Gloria, Emmanuel"

JoyDare SHINING:
seeing heavy AM fog as birthday hug from God

needing sunglasses later in the day

my kids singing "Happy Birthday" to me

pizza and wings for birthday dinner!!

hugs from my kids... and everyday gift

daily battle to crown Him as King of my life

desire to craft cards

JoyDare SILVER:

tinsel on the tree

hearing "Silver Bells"

JoyDare SWEET:

kisses from my kids (and my husband)

drinking Southern Pecan @AvodahCoffee
Christmas cookies I want to make!

JoyDare from SAVIOR

redemption;

unconditional love;

new mercies every morning


hung--handmade ornament wreath;

held--frosted Christmas cookies and coffee mug;

heard--Christmas carols

ugly beautiful:

cookies frosted by kids;

crazy Christmas lines;

creative use of leftovers

JoyDare Artwork Unframed:

huge flock of birds against gray sky backdrop

kids artwork on the fridge

handmade card ideas stuck in my head
and now I'm at 1127... and I keep counting!!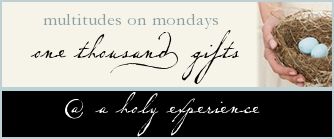 what are you thankful for in this Christmas season?