I'm not normally up this late, but I spent the day traveling, so I thought I would give it a go to do some writing before I went to bed.
In Between... one word or two? add a dash, make it one word...
In-Between
Right now, I am smack dab in-between two Allume conferences. It was just one year ago this week, that God surprised me in a big way, by providing the finances through a complete stranger, that allowed me to go to the Allume Conference in October of 2012. The sad thing is, said donor was unable to make it to the conference and I was unable to thank her properly with a hug.
Now I look back on last year's conference and it fills me with GREAT anticipation for this year's conference. I am anticipating deep hugs from the friends I made last year and also looking forward to deep hugs with new friends I have since made on twitter... I even got brave and picked someone new for roommates.
This in-between is a delightful place to be. So many happy memories of last year's conference. So much excitement about this coming conference. The line-up is awesome and leaves me giddy with high expectations. And the memories from last year fuel my excitement... Because this year, I know a little bit more what to expect and I can't wait!!!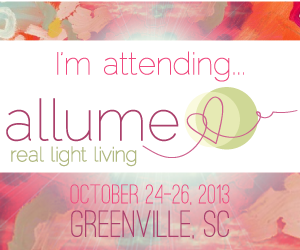 Community Conversation: Were you at last year's Allume Conference? Will you be at this year's Allume Conference? What are you most looking forward to?