Today is my wedding anniversary--Fifteen years. I confess that there are no gifts to exchange--not even a card ... It's not my love language (not that I'm excusing it). Maybe I will come up with something before the end of the day, or maybe this post will be my love gift to him. I could come up with a million excuses, but none of them are very good.
I've been planning to write a lovely blog post on this special occasion for over a week now, but I just never sat down to see what words would come out, but I can procrastinate no longer.
Today is our anniversary. Fifteen years ago, I put on a fancy white dress (fancy for me, I was a pretty simple girl back then) and you dressed in a tux and we met at the altar of my church--the only church I ever knew.
We exchanged vows, smiles, rings and a kiss. My, were we young--young, immature, no clue what we were getting in to. I look back and smile--there are sweet memories and quite the journey.
From that first apartment with a million steps. Our first Thanksgiving when you insisted on shrimp and stunk the place up. Our first Christmas all alone--no family, no traveling, no big fancy dinner--just us.
Our first anniversary and that hike through Boulder Field and Bushkill Falls and driving the country roads of Pennsylvania. There have been job changes and church changes and new homes. And then at five years in we started adding kids to the mix--one, two, three, four ...
and then our tenth anniversary which I can't remember at all. I'm pretty sure I spent that summer mad at the world, mad at you, mad at those four needy kids (3 of which were still in diapers) and mad at God. Maybe you don't remember that, maybe you do ...but you just kept loving me and coming home from work every night, even when it wasn't the happiest place to be.
I'd like to think things have improved since then even though I have a relapse now and then (like yesterday). My dad sometimes says the first 20 years are the hardest in marriage--if that's the case, we've only got five hard years left--and it does keep getting better.
Now we are at fifteen years, our kids are 5, 6, 8, and 10... what will we do when they are teenagers?!??! But today, today it's you and me and God and family and friends and one day at a time and love and forgiveness. All we need is a little more laughter!

Thank you for being my rock, my love, my balanced half. Thank you for saying "I do" fifteen years ago... and making the choice to say "I do" every morning since then!
Our most recent family picture at our Disney Vacation earlier this month...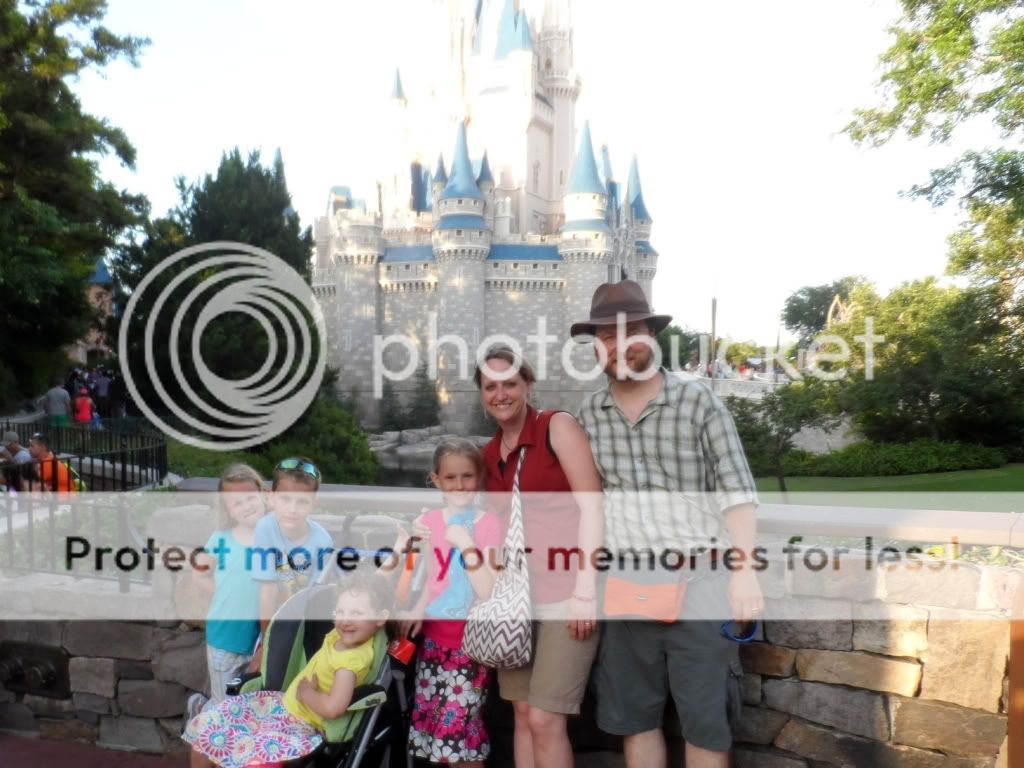 If you want to see some wedding photos, check out this post.
and if you want to see us through the years, check out this anniversary post.
Community Conversation: If you are married, how many years?