My craft room is a disaster... which makes it very difficult to create! It's on my to-do list, but until then I am trying to get more inspiration from the internet. I get nervous about "stealing" someone else's idea... that is never my intention, but then I discovered
The CSI Project
... as in Create Something Inspiring!! and I was inspired!! and the projects cover every imaginable idea... not just papercrafting!
The first challenge I participated in was
Typography
!! That should be easy in my line of "work"/hobby of cardmaking!! and I did enjoy
the card I produced
, although it looked better in my head. Good news is my sister likes it and wants me to make her a set of them! Then came the
Pantone Color of the Year
. I made an adorable
baby girl card
in Honeysuckle pink... but didn't get it posted to my blog in time to link up to the challenge (I was soo dissapointed). Then they did a
molding
challenge... and I just couldn't see how to work that into a card, so I skipped that one. but you could still check it out, there are some seriously handy, crafty people out that with awesome decorating ideas.
All that to say, that this week's challenge is
Green/St.Patrick's Day!
While I don't have any shamrock stamps, I have lots of green supplies, so I thought this would be easy to make a eye-catching card, but I don't think I succeeded! This isn't one of those contests where the winner is chosen randomly, you actually have to impress the judges with your work!! :) ... bbuuuuutttt because my craft area is a mess, I just couldn't put something smashing together!! :( However I did manage to make 3 cards that someone, somewhere, might just be interested in! So here is my submission of green cards to the CSI Projects
"GREEN"
challenge!
St. Patrick's Day ... who said kissable lips had to be red??
Lots of Springtime green, pretty flower buckets, a little pastel accent, and a sweet message inside!
Shades of Green, fun stamps, a perfect card for a friend far away!! (but a little too simple for me) I think it needs some more GREEN!
Then I went through my files to see what other great green cards I have made in the past... here they are!
If you are interested in anything you see, stop by
my online card shop
to see more or to make a special order!! As always I am open to compliments, suggestions, criticisms (unless you make me cry), etc!
and be sure to visit
for more Green projects
also linking up to ...
because handmade cards can be made for less than $10!!
and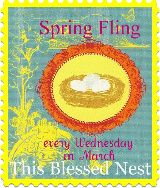 because some of these cards are perfect for Spring occasions!