So... I am sure you are all wondering how I did in my
April 3 in 30
goals...
I didn't do so good in reporting once a week... maybe I will do better on that in May! :)
so here is a quick review on April
Goal 1: Read Psalms before I turn my computer on... did really good with that, until I visited family for Easter, really messed up my routine (although I had a great time) So I need to start working on that again!
Goal 2: Create a housecleaning schedule ... TOTALLY bombed on that one, but I am going to succeed in May with the help of
31 Days to Clean
by Sarah Mae.
Goal 3: I will send out one encouragement note a week... I sent four cards out in the third week (does that count?)
As I am new at this 3 in 30 thing, I am going to work on these goals again for May.
1. I still really want to make time in God's Word a priority. If I want to be more like Jesus, I need to spend more time getting to know him better
2. I also still really want to make my house a nicer place to be. I have been bombing in the homemaking area lately!!
So to succeed in both of these challenges for the month of May, I am partaking in a Homemaker's Challenge with Christin from
Joyful Mothering
. check it out!!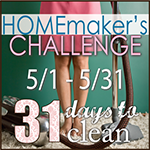 3. I need to catch up on my goal of sending one encouragement note a week, since the beginning of the year... Maybe I can do 2 a week! This week is easy, it's Teacher Appreciation week, so my kid's teachers (there's at least 3) will (hopefully) be getting notes from me this week!!
So there you go, 3 in 30 May goals... same as the first, I'll get it yet!