It's Monday... It's been a few weeks since I have joined in with Multitude Monday. The last couple days have been rough for me emotionally. I hate when i get like this. Down in the dumps and I just can't seem to snap out of it. I know that the best cure for this is counting gifts. I reached 1000+ and thought that for sure the light would come on and I would be miraculously joyful all the time. and when I wasn't, I got discouraged, and then I quit counting and then I just continued in the viscous cycle of "doom, despair, and agony on me..." and to be very truthful there isn't much doom and despair around me. I have been showered with blessings, and when they overwhelm me, I just need to count them again, instead of getting overwhelmed by them.
This year was supposed to be my year of
JOY
! I feel like I haven't been doing a great job on this... I know I said it was something God and I were gonna work on together, but apparently I haven't been yielding to His work very well. After all, Fall is just beginning and I am already feeling like it's dark at 5pm! Today the sun is even shining and it's WARM... warm enough to bring out the stink bugs... they are multiplying! I have been memorizing verses this year with Living Proof
Siesta Scripture Memory Team
, but it seems like most of my verses concentrated on the tongue, words, my mouth! So for the rest of the year, I am looking for some verses on JOY!! If you have some to recommend in the comments, please share them with me!
Some verses on giving thanks as I get back into counting gifts!!
Psalm 107:1 O Give thanks unto the Lord for he is good: for his mercy endureth for ever.
Psalm 68:19 Blessed be the Lord, who daily loadeth us with benefits, even the God of our salvation. Selah.
Psalm 103:1-5 Bless the Lord, O my soul: and all that is within me, bless his holy name. Bless the Lord, O my soul, and forget not all his benefits: who forgiveth all thine iniquities; who healeth all thy diseases; Who redeemeth thy life from destruction; who crowneth thee with lovingkindness and tender mercies; who satisfieth thy mouth with good things; so that thy youth is renewed like the eagles.
and I keep on counting, random gifts from September...
#1129 - # 1173
the little things
my five senses
receiving scholarships for school choice
windmills
visiting family
baby smiles
hugs
drag racing
uncles
making some Fall themed personalized handmade cards
Rain the entire five hour trip home, but
m
fun new play house for the kids made by Nanny!
the Buffalo Bills starting the season 3-0 (it's the little things)
clean folded laundry
the color of Autumn leaves
an unexpected visit from a friend!
I WILL keep counting, would you like to join in???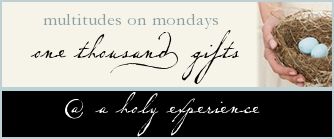 PS. don't forget to share some verses on joy with me!!