I read this great
blog post by Lisa-Jo
on Monday... You really should go read
it
, right now if you want, but please come back!
In my
Real
post on Friday, I confessed a little bit of what I'm not good at. But I don't want to wallow in the pit, so here are a few (hopefully at least 10) things I am good at!
1. Cooking
... when I actually take the time to meal plan. I really enjoy being in the kitchen and following recipes (or even tweaking them a little bit). I just wish my kids were less picky! Some of my favorites are
Taco Soup
,
Salsa/BlackBean Chicken
,
Stuffed Pepper Soup
, and
Pasta Fagioli
. I have an obsession with my crockpot... or else those are the only recipes I share! :)
2. Creating handmade stationery.
Seriously, I LOVE to make
hand-stamped cards
and I have been trying desperately to turn my hobby into a
business
, but so far that hasn't happened... any ideas? suggestions?
3. Making cheesecake.
It's been too long and I must make one soon, but I don't really have an event to make one for, and we don't need a whole one for our family... maybe Valentine's Day is reason enough!
4. I know how to Hug
. and I am getting better at doing it just when they are trying to push me away. I am learning the power of touch with my kids, and how much they NEED it. (I need it, too). and my friends... I love giving and getting hugs at church!! ... and my hubby, too!!
5. Caring for chickens.
this one surprised me a little bit. When we moved out to the mountain a year and a half ago, I thought it would be great fun to have chickens and get fresh eggs, but it was something I thought we would do in a few years when the kids were older. But then someone had to get rid of chickens and we went for it. I do most of the work, but it really isn't hard. And I never get tired of going out and finding eggs in the laying boxes!!
6. Counting the gifts
. Some days is easier than others, but I am looking, noticing, and remembering the graces... Looking for
1000 in 2012
!
7. Taking pictures
. definitely not a professional, but I enjoy capturing memories, and the gifts! Last year I did
Project 365
and only missed a few days. This year, I am sticking to
Project 52
.
8. Tickling my kids
. always a good stress reliever. When I find things getting ugly, or when I forget my priorities, sometimes I know that a quick tickle fest can help get everything back on track.
9. Reading
... I love reading, I even worked in a library when I was in high school. These days, I read more blogs than books, but I still love reading. And now that I have a Kindle, it's soo much easier to carry a bunch of books around with me!
10. reading to my kids
... which in all honesty is HARD work, but something they really enjoy... okay, who am I kidding? I am not good at it AT ALL, but I'm having a hard time coming up with 10 things!!
linking up with ohAmanda and
TopTenTuesday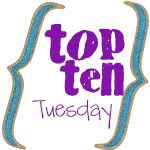 So, tell me, what are YOU good at? and if you know me, what would you add to my list??