I never set out to be a writer. When I started blogging almost 8 years ago, it was an outlet as a new mom, mostly used for keeping my out of town family up to date on the antics of my kids. I met a few blogging friends along the way, but never developed a niche or passion.
I dabbled in
photography
--maybe just
photo-taking
, shared
recipes
, occasionally talked
spiritual things
I was learning, experimented with
Five Minute Friday
, and always used it for
counting my gifts.
I guess that would make me a memoir blogger.
But in reality, I'm a crafter,
an artisan
, if I want to be bold. I started this, my second blog, with the intention of promoting my
handmade stationery
and gaining exposure for
my online card shop
. I thought if I showed my cards here on the blog, more people would like them and buy them... But actually doing that takes time, commitment, investment, discipline. .. and it didn't really happen! I don't have any spare change floating around to invest in getting my lemonade stand out to the street where it can be seen!
So while my real desire is to grow my craft, my actions don't show that because I can go weeks without spending time in my craft room. But then I start to get antsy... And cranky! And mad at myself for not prioritizing!
The real problem is that I haven't figured out what I want to be when I grow up. There's too many great choices out there and I still haven't figured out which one is for me!
I'm a wife and a mom... Which makes me a housekeeper, a chauffeur, a cook and maid. I'm a friend and encourager...or at least I try to be. But those are things that everyone does. But what makes me unique? What do I have to offer the world, the body of Christ??
I enjoy taking pictures but don't consider myself a photographer.
I never considered myself a blogger, but I have fallen in love with writing... But I haven't figured out if I do it for myself, for God, or for the praise of men?
Then there is cooking, baking and sharing recipes. I used to find such satisfaction in preparing yummy things... But with 4 young kids, it became overwhelming and a matter of survival to just find something to eat!
And card making... It still makes me smile, and I feel most fulfilled when I create new cards that get rave reviews (which never really happens, but I can pretend). But card making takes time and effort
every.single.time
!
Hand made crafting isn't like writing and publishing an book. A TON of work goes into a book, but then once it's published you just reap the rewards... every time you sell another copy. If I want to make my cards successful, I have to be creative every single time I sit down! Even when I am copying a card I've created before, it is still a process. Each card takes time and effort, even when it's a set of the same card. A lot of time and energy goes into each card I make, and you just can't put a price on that.
Wow, I feel like I'm starting to whine, but I'm just trying to share my heart. I need someone to help me figure out this God sized dream of mine...
In addition to a
Write it, Girl
challenge, I need a Create it, Girl challenge!
I also need to hibernate and create/craft for a day...or two!!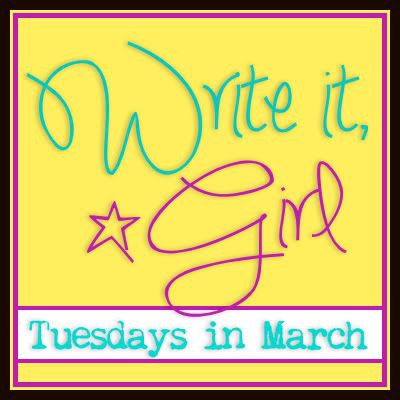 This
Write it, Girl
post seems to be a little bit all over the place. I went to bed last night with nothing to write about... pulled out the iPad (new to me... because hubby got a NEW one) and started that first paragraph... and just kept typing. I tried to edit a little this morning, but I just want to get it out there! Thank you,
Write it, Girl
for the push to write this month!!