I'm a procrastinator... always have been! I apparently think I work best when I'm facing a deadline or something, but that's not true! I would be so much more at my best if I didn't put things off until the last possible moment!
But a TICKET to
ALLUME
is on the table, so I can't NOT write! Write it, Girl has been good to me! I have already won a prize package, so I feel a little guilty entering this contest, too (can my luck be THAT good?) ... I don't know, but my God is that good ...and better! (whether I win or not)
What does it mean to be a Write it, Girl?
Being a Write it, Girl means
trying something new
. I've said many times that I didn't think I was a writer even though I've been a blogger for years. This month changed that for me! I am claiming the title "
Writer
." I don't know what it will look like down the road for me, but for this month, for now, it means writing what is on my heart! I did that this month and wrote some of my favorite posts... and got some delightful feedback!
Being a Write it, Girl means
facing my fears
! This month I wrote about some things I've been putting off for months. But I wrote and it felt good and I received affirmation and encouragement.
It means pursuing my dreams, thinking and wishing, and hoping, and planning, and praying, and writing!
Being a Write it, Girl showed me that
I'm not alone
... there are other writers out there that are afraid to claim the title "Writer." I'm hoping that this month changed that for them, too!
We all have a story to tell, will you tell yours?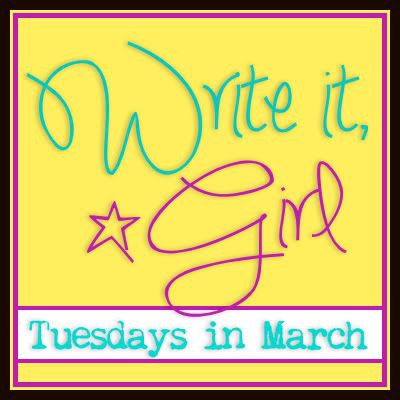 Week One:
The Red Door
The story I've been putting off since we moved a year and a half ago, because I was afraid people would think I was crazy to hear God speak to me through the color of a door!
Week Two:
Where I'm from
A look back at where I came from, to help me as I look forward to where I'm going... lots of happy memories!
Week Three:
My lemonade stand
Thinking about some dreams I have that don't include writing per se.
Week Four:
Trying to write
Where I just spill what's on my heart... even when I can't make heads or tail of it.